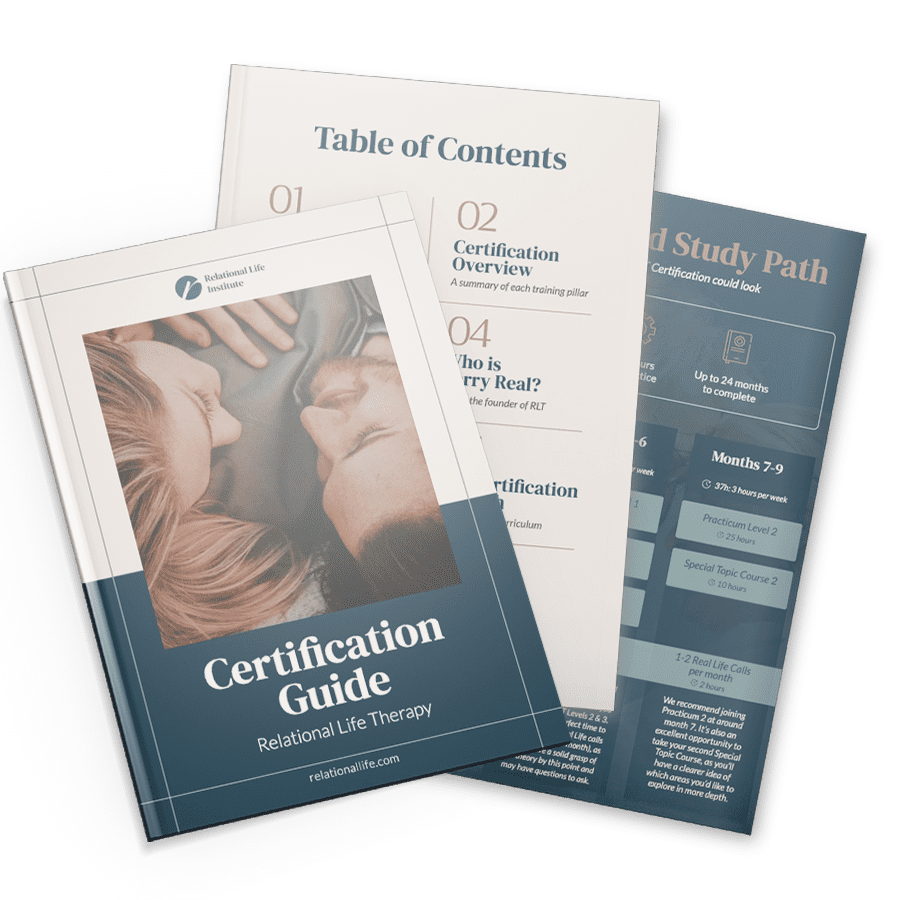 Become a Masterful Couples Therapist and Build a Thriving Practice With the RLT Certification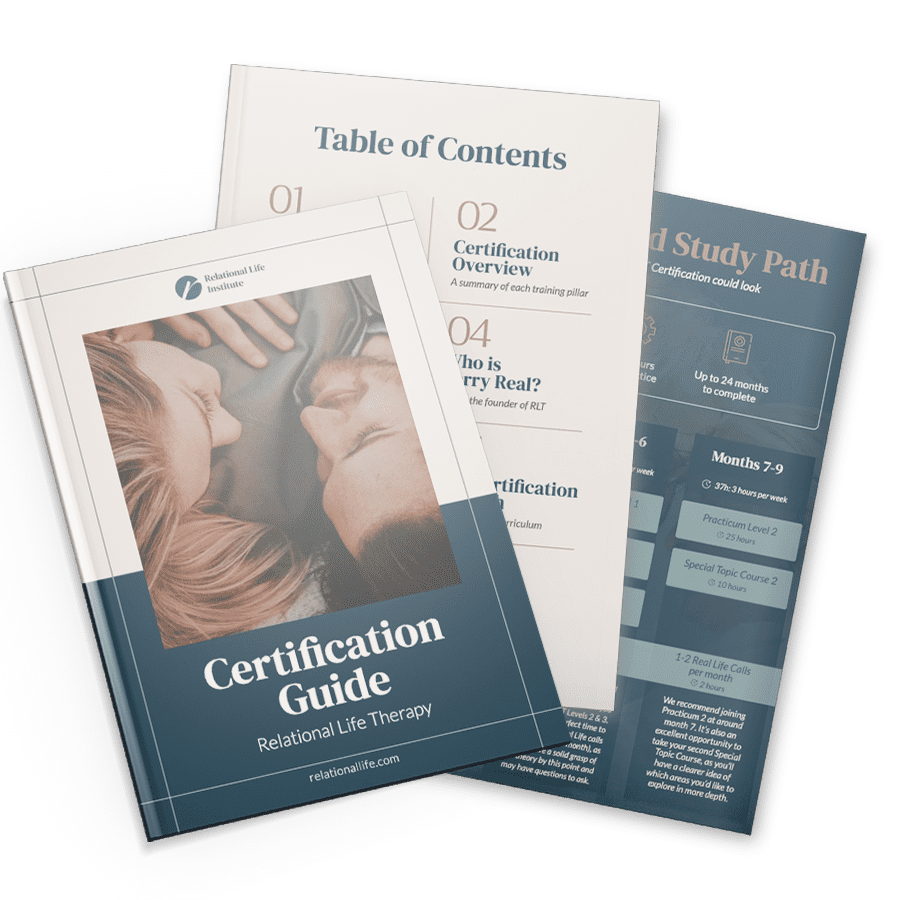 Discover how the deepest training from leading couples therapist Terry Real will help you work confidently with even the most challenging cases.
Get the free RLT Certification Guide to discover:
Providing you with the tools you need to excel as a couples therapist 
Powerful Strategies & Interventions:
The RLT Certification equips clinical practitioners with the effective tools to elegantly and confidently guide even the most challenging clients into intimacy. We understand that couples therapy and marriage counseling is tough. It's deeply complex and emotionally charged. At times it can be overwhelming. RLT will help you sustain your passion for couple work and feel excited by it.
Developed by leading couples therapist and New York Times bestselling author Terry Real, RLT incorporates perspectives and skills from systems therapy, feminist therapy, and coaching, together with current evidence-based modalities, to provide practitioners with an innovative way to approach couples work that breaks many of the rules of traditional therapy.
Most therapy trainings don't equip you with the skills to build a business—we do. As part of the RLT Certification you access expert business training to help you establish and grow a thriving therapy practice. 
How Does the Certification Work?
The RLT Certification is delivered entirely online via a blend of self-paced study, observation, and guided practice. 
The RLT Certification is suitable for:
Therapists, counselors, and psychologists

Social workers

Students and instructors in health, counseling, or coaching-related field

Relationship, life, and business coaches
Other health professionals may also benefit. To see if it's the right fit for you, click "Request Information," and receive full details of the training.
"I've done all kinds of trainings over the years but never found a model that truly fit for me. I had become "eclectic" in my approach, never really mastering any one approach. I longed for a model that encouraged me to myself—open, authentic, and most importantly, effective. I found my home in RLT.

My practice was already very successful, but since RLT certification, it's skyrocketed. I had to close my practice to new clients. It's also allowed me to be more selective about the clients that I work with. And I'm re-energized by the work: I used to be worn out working with couples, but now I love it. Success and making a difference is a powerful antidote to burnout!"
"The practical and positive approach of RLT has helped my clients see change almost immediately. By weaving past trauma and its impact on relationships and by building new skills together, my clients have expressed new deep and meaningful connections. RLT is not just a training program, it is a community that works in unity to offer ongoing support to therapists as well as clients."
"The gift of RLT work for the therapist is that you cannot provide this work for your clients without diving into yourself and one's own personal growth. Which then trickles (or is a waterfall) into our own personal life and relationships that gives me permission to grow, hold myself accountable, see my children's actions and perspectives change while we all challenge to love ourselves at the same time. On a professional level, I have seen clients that have been stuck for years/decades begin to show growth and move towards their authentic self with pride, dignity and confidence that they've never experienced before. Life Changing…."
Complete the below form to get a free copy of the RLT Certification Guide with details on price, curriculum, and study paths. 
8 Ways RLT Differs From Traditional Therapy
1

ADDRESSING GRANDIOSITY AND SHAME

Traditional psychotherapy focuses primarily on healing shame: helping people come up from feeling "one-down," or inferior. RLT is just as concerned with shame's cousin, grandiosity. We help people come to the level ground, neither "one-up" and superior nor "one-down" and inferior.

2

WE TAKE SIDES

In RLT, therapists are not neutral—we take sides. Not all problems in a relationship are 50/50. When there's power imbalance, we explicitly side with the one-down person to restore balance. RLT therapists don't try to earn the trust of grandiose people; instead, we gather data and use leverage to engage them in the process.

3

WE'RE DIRECT

We lovingly confront our clients: RLT is all about telling people what to do in certain situations, educating, and equipping them to have a corrective emotional experience with their partner. RLT therapists take sides and tell people what to do—and what the consequences will be if they don't do it.

4

LASTING TRANSFORMATION

In traditional therapy, character is considered deeply embedded and hard to change. In RLT, we see character as changeable. We set the bar high: we expect dramatic change in our clients. It's not unusual for people to simply stop doing negative things they've done their whole lives. And, with support, these changes can be permanent. RLT moves fast and makes things happen.

5

INNER CHILD WORK IN THE PRESENCE OF THE PARTNER

Deep trauma work is done right in the room, in the presence of the partner. This is different from traditional therapy, with its emphasis on individual work. It's not about transference; it's about the client changing their relationship with themselves and their partner. Typically, people will go deeper in the presence of their partner, and this work helps build empathy and connection.

6

THERAPISTS AND CLIENTS ARE EQUAL

In traditional therapy, the therapist is an expert or a facilitator. In RLT, the therapist is neither above nor below the client: we are in the mud with them, and our main authority comes from our personal relational recovery. RLT therapists make use of judicious self-disclosure—telling stories of how we use these skills in our own relationships and know what works.

7

IT'S ABOUT SUBJECTIVE REALITY

There is no room for objective reality in personal relationships. Who's right or wrong doesn't matter. It's about two subjective realities that have to negotiate with each other, make things work for themselves as a team. In RLT, we focus on helping clients work as a team with an "us vs. the problem" mindset.

8

TEACHING RELATIONAL SKILLS

Traditional therapy heals through nurturing; RLT believes that nurturing and empathy are necessary but not sufficient. We also teach our clients how to live relationally—in a way that is connected to oneself, one's thoughts, feelings, sensations, and to others. RLT is educational and it empowers clients with the skills to repair and cherish their relationships for life.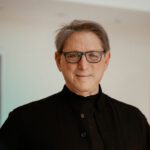 Terry Real, creator of Relational Life Therapy
Terry Real, LICSW, is an internationally recognized family therapist, New York Times bestselling author, and sought-after speaker. 
A former senior faculty member of the Family Institute of Cambridge in Massachusetts and a retired Clinical Fellow of the Meadows Institute in Arizona, Terry is renowned for his ability to save couples on the brink of divorce using the progressive approach he created, Relational Life Therapy. RLT equips people with the powerful relational skills they need to cultivate meaningful connections—to themselves, each other, and the planet as a whole.
Via his esteemed training school, the Relational Life Institute, Terry has trained thousands of relationship professionals in his RLT method to date. His original insights on couples therapy, relationships, and men's issues have been featured in outlets from Psychotherapy Networker and Forbes to The Today Show and The New York Times.