THE FOUNDATIONS OF RELATIONAL LIFE THERAPY 
Discover the Progressive Approach to
Couples Therapy That Will Give You the Skills to Confidently Transform Relationships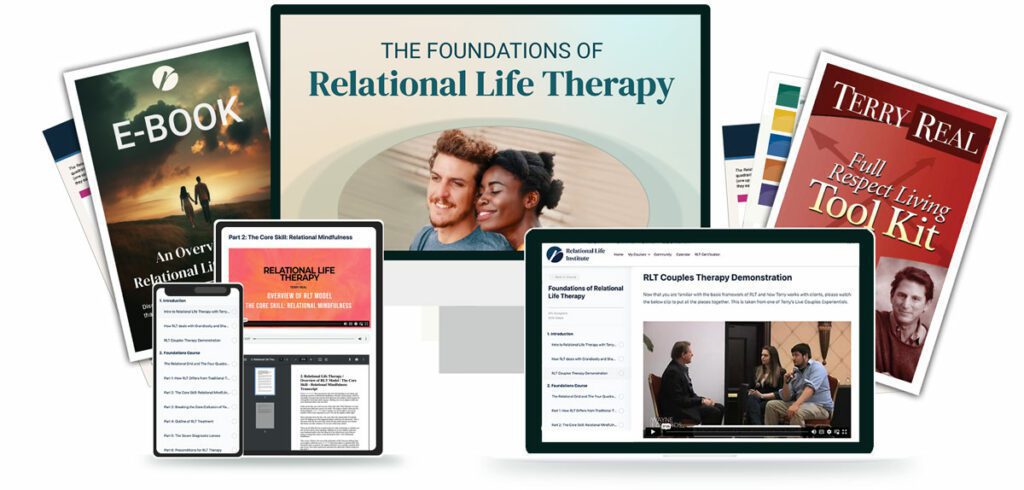 Join leading couples therapist Terry Real in The Foundations of Relational Life Therapy—the new 3-hour self-paced online course where you'll learn the principles and techniques behind effective couples therapy.
Do you want to help couples build fulfilling relationships but feel unprepared for the complexities of couples therapy?
Perhaps you're a therapist or coach who's been helping individuals for some time and now feel the pull toward working with couples.
You recognize that relationships are essential to our well-being and happiness and want to help couples flourish, but perhaps you fear you don't have the right skills to make a difference…
The truth is, couples therapy is uniquely challenging and requires a specific set of skills. And unfortunately, many of us were never taught these skills during our college degrees.
It's not merely adding another person to the room, it's an entirely different dynamic.
Suddenly, you're not only managing one relationship but three. How do you make sure each partner feels supported and heard? What do you do when one partner is reluctant to engage? How do you manage the emotional intensity?
Entering into couples therapy without the necessary skills can feel like jumping into the deep end before you even know how to swim.
But there is a better way…
You can learn the skills to be confident and competent working with couples, so you feel excited rather than nervous about this fresh challenge.
Mastering these skills will set you up for an enriching, thriving career, helping people repair the most important relationships in their lives.
You just need the right teacher to help you get started…
That's where Terry Real comes in. As one of the leading experts in the field, Terry has worked with couples for nearly 40 years and specializes in saving couples on the brink of separation using the progressive couples therapy approach he created, Relational Life Therapy (RLT).
Inside this training, Terry will personally guide you through the founding principles of RLT and the powerful tools he uses to help couples repair, restore, and revitalize their relationships.
You'll come away with a clear understanding of what effective couples therapy looks like and several new tools you can begin exploring in your client sessions immediately.
Don't let uncertainty hold you back any longer; take the next step in your career and explore effective ways of working with couples in The Foundations of Relational Life Therapy.
Here's Everything You Get
Inside This Course: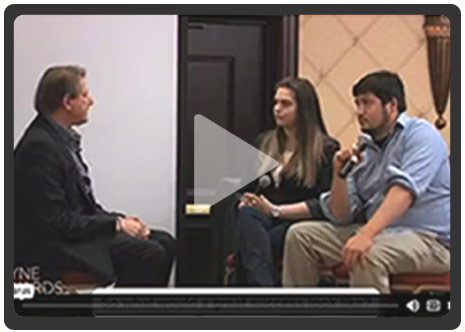 35-Minute Video Demonstration of an RLT Couples Therapy Session with Terry Real​
Watch as Terry Real conducts an initial session with a couple to see the remarkable results unfold for yourself in real time. You'll see how the RLT principles translate into practice and how they work to move couples forward with extraordinary speed and precision.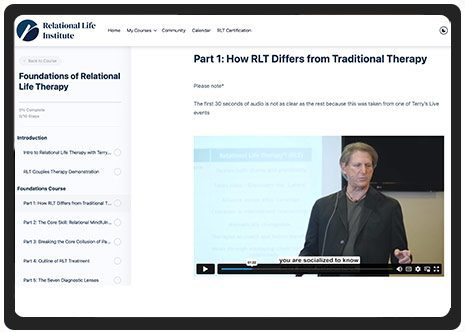 2 Hours of Video Training on RLT Principles & Techniques ​
Explore the foundational premises of RLT to understand what makes this approach so powerful and effective directly from Terry Real. Discover how RLT differs from traditional therapy, including its focus on moving people beyond patriarchy, working with grandiosity, and teaching lifelong relational skills.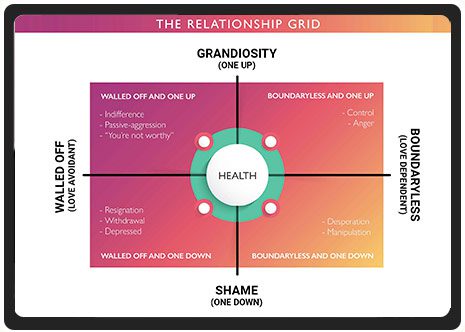 An In-Depth Look at How To Use The Relational Grid ​
Terry explains how to use his  primary diagnostic tool, The Relational Grid, with your clients (and in your personal relationships) to identify each partner's relational stance and how they combine to create the dysfunctional pattern the couple is caught in.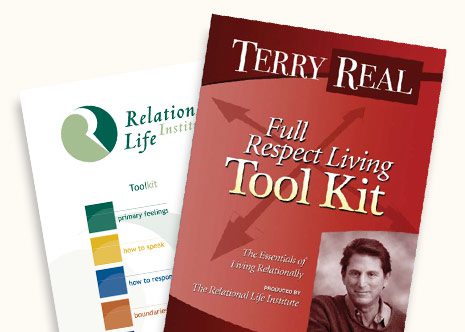 2 PDF Tool Kits to Help You Incorporate RLT into Your Work​
Access two comprehensive tool kits you can use with both your clients and in your personal relationships. Learn the essential techniques for relational living—from practicing healthy boundaries and self-esteem to effective repair and intimacy-building skills.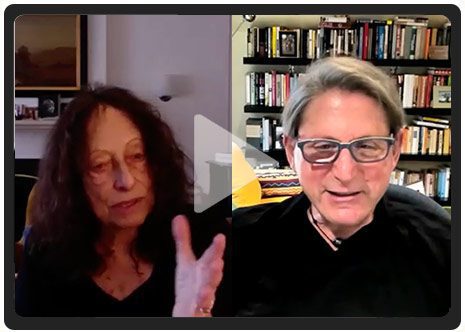 One-hour Interview with Terry & Carol Gilligan on The Origins of RLT​
In this candid conversation, Terry discusses how RLT came about with his close colleague and friend, the feminist psychologist Carol Gilligan. Terry credits Carol with helping him shape his perspective on couples therapy and relationality.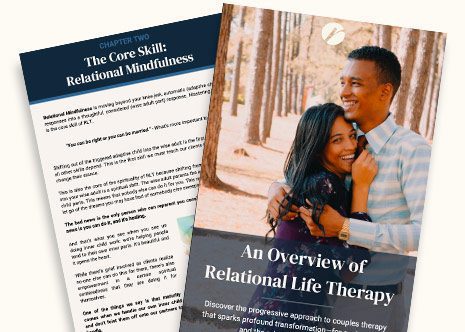 "An Overview of RLT" E-book
This 20-page guide provides a helpful summary of everything you'll learn throughout the course. Terry lays out the principles and ambitions of Relational Life Therapy for you to refer back to as and when you need to.
What Others Say About RLT
"I've done all kinds of trainings over the years but never found a model that truly fit for me. I had become "eclectic" in my approach, never really mastering any one approach. I longed for a model that encouraged me to be myself—open, authentic, and most importantly, effective. I found my home in RLT.
My practice was already very successful, but since RLT certification, it's skyrocketed. I had to close my practice to new clients. It's also allowed me to be more selective about the clients that I work with. And I'm re-energized by the work: I used to be worn out working with couples, but now I love it. Success and making a difference is a powerful antidote to burnout!"
—  Sig Taylor, MSW, RSW, RMFT
"You cannot provide this work for your clients without diving into your own personal growth.
Which then trickles into our own personal life and relationships that gives me permission to grow, hold myself accountable, see my children's actions and perspectives change while we all challenge to love ourselves at the same time.
On a professional level, I have seen clients that have been stuck for years begin to move towards their authentic self with pride, dignity and confidence."
"Before RLT I felt like something was missing as a therapist.
The things I was taught in school were not practical and I felt stuck in my practice. I'm so grateful for the experiences I have had with the RLT training. I now see relationships in a way that finally makes sense to me and I have more confidence working with couples because I have something that is realistic and I believe works and more importantly my clients are able to grasp and practice."
Enroll & Get Access Today
Get started with The Foundations of Relational Life Therapy today for this limited time special price.
Enroll & Get Access Today
Get started with The Foundations of Relational Life Therapy today for this limited time special price.
About Terry Real, the Creator of RLT
Terry Real, LICSW,  is an internationally recognized couples and family therapist, speaker, and New York Times bestselling author. Terry founded the Relational Life Institute (RLI) to provide workshops for couples, individuals, and parents as well as a professional training program for clinicians wanting to learn his Relational Life Therapy (RLT) methodology.
Terry is the author of four books, including the recent New York Times bestseller, Us: Getting Past You & Me to Build a More Loving Relationship. His ideas on men's issues and couple's therapy have been celebrated in venues such as Psychology Networker, Psychology Today, Good Morning America, The Today Show, Vogue, Forbes, Oprah, and The New York Times.
A senior faculty member of the Family Institute of Cambridge in Massachusetts and a retired Clinical Fellow of the Meadows Institute in Arizona, Terry has worked with thousands of individuals, couples, and fellow therapists. With 30+ years of clinical experience, Terry knows how to lead couples on a step-by-step journey to greater intimacy and personal fulfillment. Known as "the turnaround guy," he has a history of transforming relationships that are "on the brink."
The Relational Life Institute grew out of Terry's extensive experience and research. He has trained thousands of therapists who have benefited from a whole new perspective on working with couples and individuals. RLT teaches people how to make their relationships work by providing services designed to teach the principles of Relational Life so that everyone can enjoy full respect living and craft a healthy life legacy.