New Online Training:
Trauma and Opportunity: The RLT Approach to Working With Infidelity
Working With Infidelity as a Catalyst for Deep Transformation — In Your Clients and Their Relationships
5 LIVE 90-minute classes with master couples therapist, Terry Real.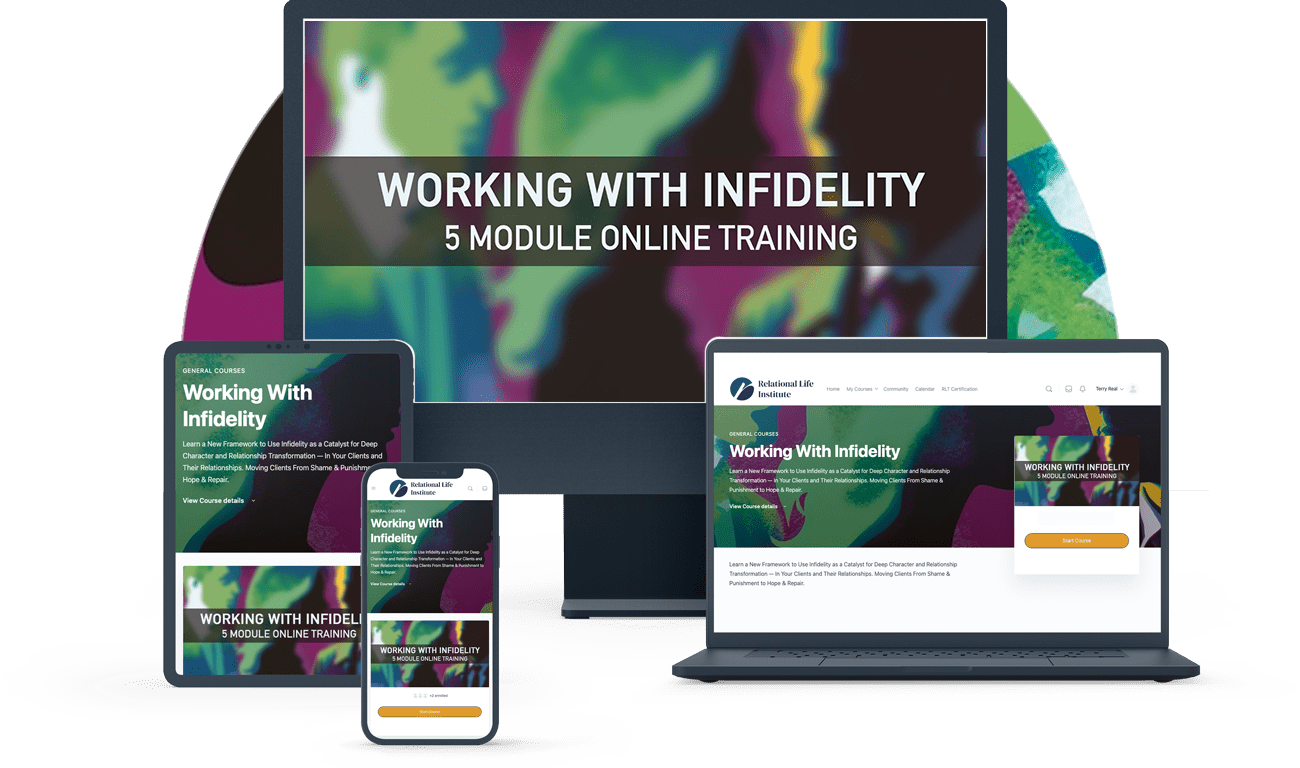 5 LIVE 90-MINUTE CLASSES WITH TERRY REAL
Each class takes place on Zoom and begins with a lecture from Terry on a particular aspect of working with infidelity, before opening up for your questions. 
All training calls will be from 1pm to 2:30pm ET on the following dates:
Wednesday, February 22
Wednesday, March 1
Wednesday, March 8
Wednesday, March 15
Thursday, March 23
Class 1: An Overview of the RLT Approach to Infidelity
The RLT perspective on infidelity and how it differs from other models

The goals of treatment:

using the crisis as a springboard for transformational change in the character of each partner and the essential character of the union itself

The 2 phases of treatment:

containment and transformation

How to be the Wise Adult in the room:

approaching infidelity issues from the center of health

How to deal with countertransference

: managing your own feelings around infidelity

The importance of not imposing a model of fidelity on your clients

Identifying and disentangling from your own biases and assumptions about fidelity
Class 2: The Hurt Partner: Infidelity as a Trauma
Understanding infidelity as a trauma for the hurt partner

: their basic assumptions about their partner and relationship have been shattered

Creating a platform for the hurt partner to deal with the trauma of betrayal and deceit
Exploring the 2 questions of hurt partners:
How could you do that?

How do I know you won't do it again?

The question of disclosure:

should everything be disclosed? How and when should it happen?

Reassuring behaviors:

how to be the voice of what's appropriate, moderate, and respectful

What ultimately helps hurt partners regain trust
Class 3: The Involved Partner: Understanding the Lack of "No"
Shifting the question from "why do people cheat?" to "why

don't

they cheat?" - identifying what force has overridden the power of "no"

The 3 reasons behind the lack of ability to say "no" to infidelity

:

Normal human weakness

The character of the unfaithful partner

The character of the long-term relationship

Realistic remorse:

the involved partner doesn't need to regret the infidelity, but they must regret the consequences of their actions

The involved partner must begin with accountability, but not shame or self-attack
Class 4: Infidelity as an Opportunity for Transformation
The old relationship is over. The question now is: can we help our clients forge a new one?

Understanding how to use the crisis of infidelity as an opportunity for deeper transformation in the relationship

Moving beyond the victim/perpetrator framework into one that builds hope

Identifying the dysfunctional relational stances that contributed to the infidelity and how to address them

Shifting from

what

happened to understanding

why

it happened

Teaching each partner the relational skills for a stronger and healthier relationship:

Restoring relational joy

Transmission/reception work

    How to amplify each partner's progress

as they move towards true intimacy

 
Class 5: The Crisis is Over: Now What?
Teaching each partner the relational skills for a stronger and healthier relationship:

Restoring relational joy

Transmission/reception work

How to amplify each partner's progress

as they move towards true intimacy

Demarcating the crisis as having passed

Celebrating the new transformed relationship

—perhaps it's time to renew wedding vows
LIFETIME ACCESS TO THE CALL RECORDINGS IN OUR PRIVATE MEMBERSHIP SITE
You'll receive access to our private membership site, the RLT Community Hub, where you'll find access to all call recordings to watch back anytime. This is also a place to get to know your colleagues on the course, share ideas, ask questions, and make connections.
Plus These Exciting Bonuses:
[ONLINE COURSE] RLT'S APPROACH TO TRAUMA
In this 5-part video series, Terry Real takes you deep into the RLT approach to healing trauma, from why we conduct inner child work in the couples context to how trauma operates in couples.
[TALK] ESTHER PEREL ON INFIDELITY: THE STATE OF AFFAIRS
A 60-minute talk from psychotherapist and NYT bestselling author, Esther Perel, who doesn't shy away from the opportunities infidelity can open up for a new relationship within an old one.
Learn a New Framework For Infidelity
50% of people come to couples therapy due to some form of infidelity.
We see it in our offices frequently, yet it's still an area that holds great doubt, uncertainty, and even fear for many therapists…
Facing the devastating trauma, deep betrayal, and shattered trust in the aftermath of an affair is a particularly stirring issue for us. Many of us have been touched by infidelity personally—in our own relationships or as children. 
Managing our own feelings and acting as a container for our clients' emotions, while trying to constructively move them forward can be a steep challenge. 
But helping couples come back from an affair is also one of the most rewarding parts of couples therapy. 
It presents you with one of the biggest opportunities to bring about transformation—in each partner and the relationship as a whole. 
Too often, the focus is on restoring the old—often problematic—equilibrium. But the truth is, many couples manage to return to the old status quo on their own: two-thirds of couples survive infidelity… 
But in RLT, we strive for more.
We use the crisis of infidelity to make way for something completely new—a robust and healthy relationship where partners experience true intimacy like never before!
Join Terry Real, the creator of Relational Life Therapy (RLT), to discover a fresh approach to working with infidelity that moves beyond the traditional victim/perpetrator framework into one that builds hope and opportunity for real repair. 
Throughout five 90-minute LIVE classes, Terry will teach you the exact RLT framework he has used to help thousands of couples come back from infidelity with a stronger, healthier relationship than before.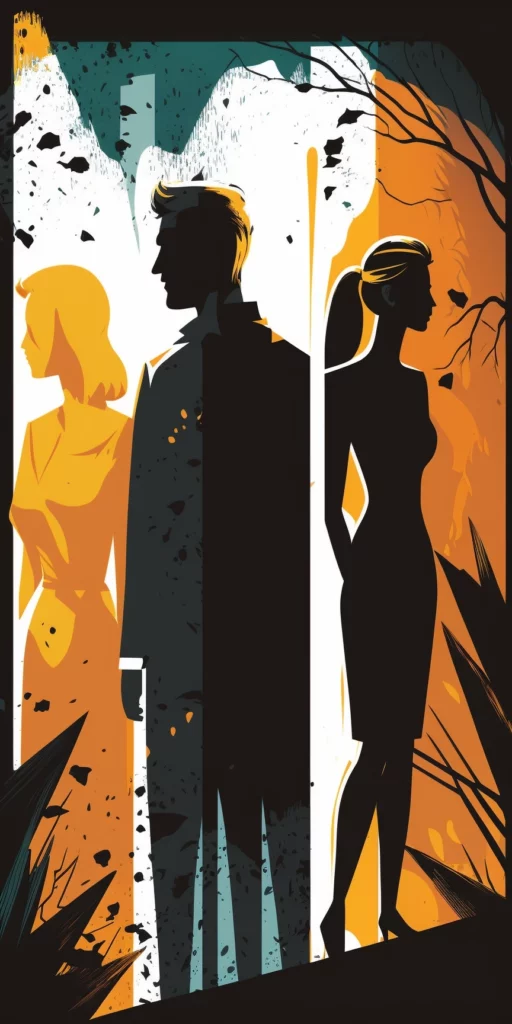 How the RLT Approach Will Elevate Your Work With Infidelity
After this course, you will have the knowledge and tools you need to elegantly and effectively navigate the complexities of infidelity. You will…
You'll feel certain in your ability to offer your clients more than a return to their old reality. You'll feel assured that you can offer them something more: hope and optimism for a stronger, healthier relationship.

Equipped with the powerful RLT tools that Terry has used for 30 years to guide couples through the crisis, you'll know exactly how to work with infidelity, harnessing it as a mechanism for dramatic and permanent transformation.
It's exhausting when you can't help your clients the way you want to. But with the skills you'll learn inside this course, you'll feel reinvested in your work as you see the transformations unfold before you.
Who Should Take
This

Course?
This course is for you if you're a
therapist, coach, or mental health practitioner
who wants to…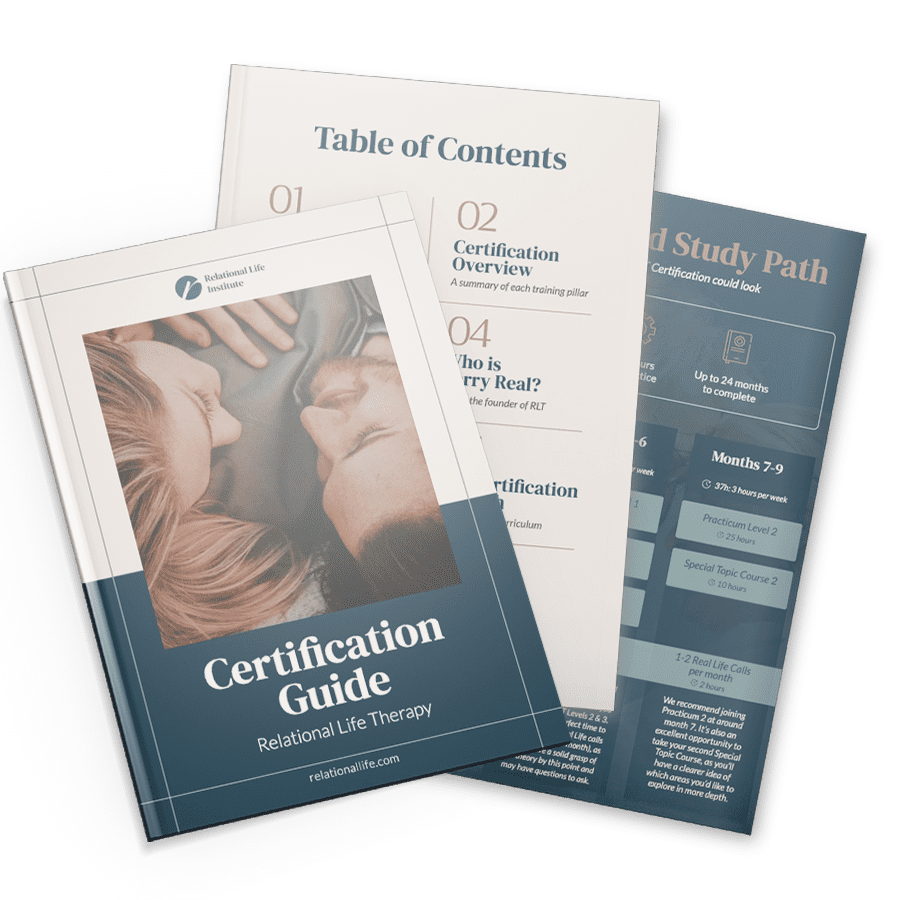 The deepest training in the RLT model.
About Terry Real, the Creator of RLT
Terry Real, LICSW,  is an internationally recognized couples and family therapist, speaker, and New York Times bestselling author. Terry founded the Relational Life Institute (RLI) to provide workshops for couples, individuals, and parents as well as a professional training program for clinicians wanting to learn his Relational Life Therapy (RLT) methodology.
Terry is the author of four books, including the recent New York Times bestseller, Us: Getting Past You & Me to Build a More Loving Relationship. His ideas on men's issues and couple's therapy have been celebrated in venues such as Psychology Networker, Psychology Today, Good Morning America, The Today Show, Vogue, Forbes, Oprah, and The New York Times.
A senior faculty member of the Family Institute of Cambridge in Massachusetts and a retired Clinical Fellow of the Meadows Institute in Arizona, Terry has worked with thousands of individuals, couples, and fellow therapists. With 30+ years of clinical experience, Terry knows how to lead couples on a step-by-step journey to greater intimacy and personal fulfillment. Known as "the turnaround guy," he has a history of transforming relationships that are "on the brink."
The Relational Life Institute grew out of Terry's extensive experience and research. He has trained thousands of therapists who have benefited from a whole new perspective on working with couples and individuals. RLT teaches people how to make their relationships work by providing services designed to teach the principles of Relational Life so that everyone can enjoy full respect living and craft a healthy life legacy.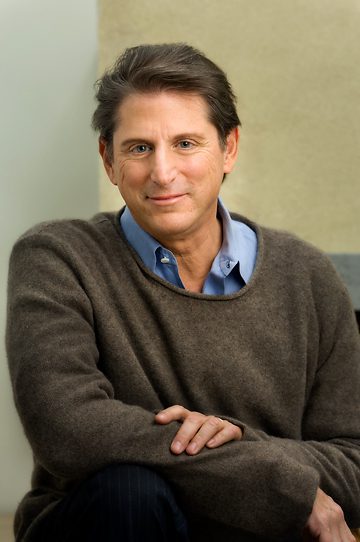 What Others Say About Terry and RLT
"The practical and positive approach of RLT has helped my clients see change almost immediately. By weaving past trauma and its impact on relationships and by building new skills together, my clients have expressed new deep and meaningful connections. RLT is not just a training program, it is a community that works in unity to offer ongoing support to therapists as well as clients."
—  Clare Mézes, MSc, RP, Toronto, Canada
"After 25 years of working as a Psychotherapist and Marriage Counselor I was ready to "hang it all up." I was more than burnt out. Now, 6 months later, I am reinvested in my work and enjoying it in a brand new way. Renewed energy and enthusiasm for my work has replaced the negativity I was experiencing. Thanks so much RLT!"
— Roseanna Zoubek, LCSW, West Orange, NJ
"Some of the things I love about Terry Real and his work are the practical steps, down-to-earth guidance and his model of having the courage and respect to be honest with couples when one partner is behaving in a way that needs to be addressed first."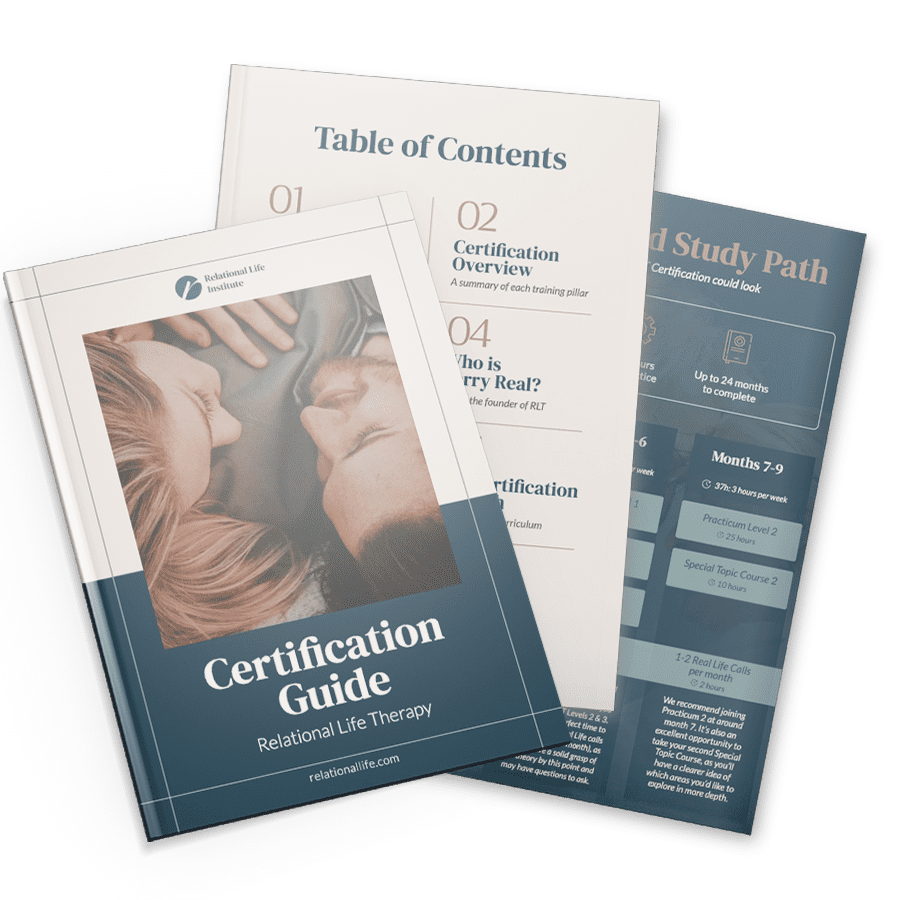 The deepest training in the RLT model.
Secure your space in
Trauma and Opportunity: The RLT Approach to Working With Infidelity.
Choose from the single payment option or easy payment plan.
BEST VALUE
Single Pay
$397
Frequently Asked Questions
When are the live calls?
The live calls are each 90-minutes long and take place on the following dates:
Wednesday, February 22, 1-2:30pm ET

Wednesday, March 1, 1-2:30pm ET

Wednesday, March 8

, 1-2:30pm ET

Wednesday, March 15, 1-2:30pm ET

Thursday, March 23, 1-2:30pm ET
Each call will be recorded and stored in the RLT Community Hub, which you will receive lifetime access to as soon as you enroll.
What if I can't make the live calls?
Not a problem—each call will be recorded and stored in the RLT Community Hub, which you will receive lifetime access to as soon as you enroll.
Is this course eligible for CE credits?
How long will I have access to the course?
Forever! As soon as you enroll, we give you logins to our learning platform, the RLT Community Hub, where you have lifetime access to all course materials. 
Is everything online?
Yes—all of the calls are online via Zoom and recordings are stored in the RLT Community Hub (our exclusive online learning platform) to watch at your convenience. 
Is this part of the RLT Certification?
Yes, Trauma and Opportunity: The RLT Approach to Working With Infidelity is included in the RLT Certification program—the deepest training in the RLT model. Once you enroll in the certification, the fee for this course is covered. Additionally, if you wish to enroll at a later date, the price you pay for this course (and any other professional RLI training) will be deducted from the Certification fee (the maximum discount available is $4,000). For more information on the RLT Certification, including the full curriculum, pricing, and payment plans, download the free guide.
What if I don't work with couples? Can I still join?
While the course material is predominantly framed within the context of couples therapy, the theory and techniques may be useful for therapists working with individuals looking to heal from the hurt of past affairs or to break their patterns of infidelity.  
Is this course for couples looking to heal from infidelity?
This course is designed for clinicians (therapists, coaches, and mental health practitioners) to provide them with the tools they need to get people through the crisis in a way that promotes growth. This course does not contain advice for couples on how to come back from infidelity. For specific help on how to build true intimacy in your personal relationships, we recommend Terry's NYT bestselling book, Us: Getting Past You and Me to Build a More Loving Relationship or his online course Staying in Love: The Art of Fierce Intimacy. 
What is Relational Life Therapy?
Relational Life Therapy (RLT) is the radical approach to couples therapy created by Terry Real. It combines the most effective techniques from multiple therapies to create a state-of-the-art, integrated method to powerfully heal relationships. RLT breaks many of the rules of traditional therapy to go deep quickly and help clients make rapid and significant changes. 
Using a range of powerful diagnostic and transformative tools, RLT helps people to first reconnect to themselves—their feelings, needs, and desires—to build a stronger, more intimate connection with their partner. 
Do you have a refund policy?
We're confident you'll get so much out of your course. However, if you're not 100 percent satisfied with your purchase, simply contact us at support@terryreal.com within 48 hours after the first live call and we'll give you a full refund, no questions asked.